Jul 1, 2022 11:08 AM Central
Brandi Bunda
I am so excited to join thousands of others who are participating in an Inner Beauty Collagen Challenge that starts today, Ju ly 1st!
The skin is our largest organ and the stress of the last two years (and beyond) has wreaked havoc on it. Our hair and nails need some extra love too! (especially if you had "the thing that shall not be named" that post-hair loss is real).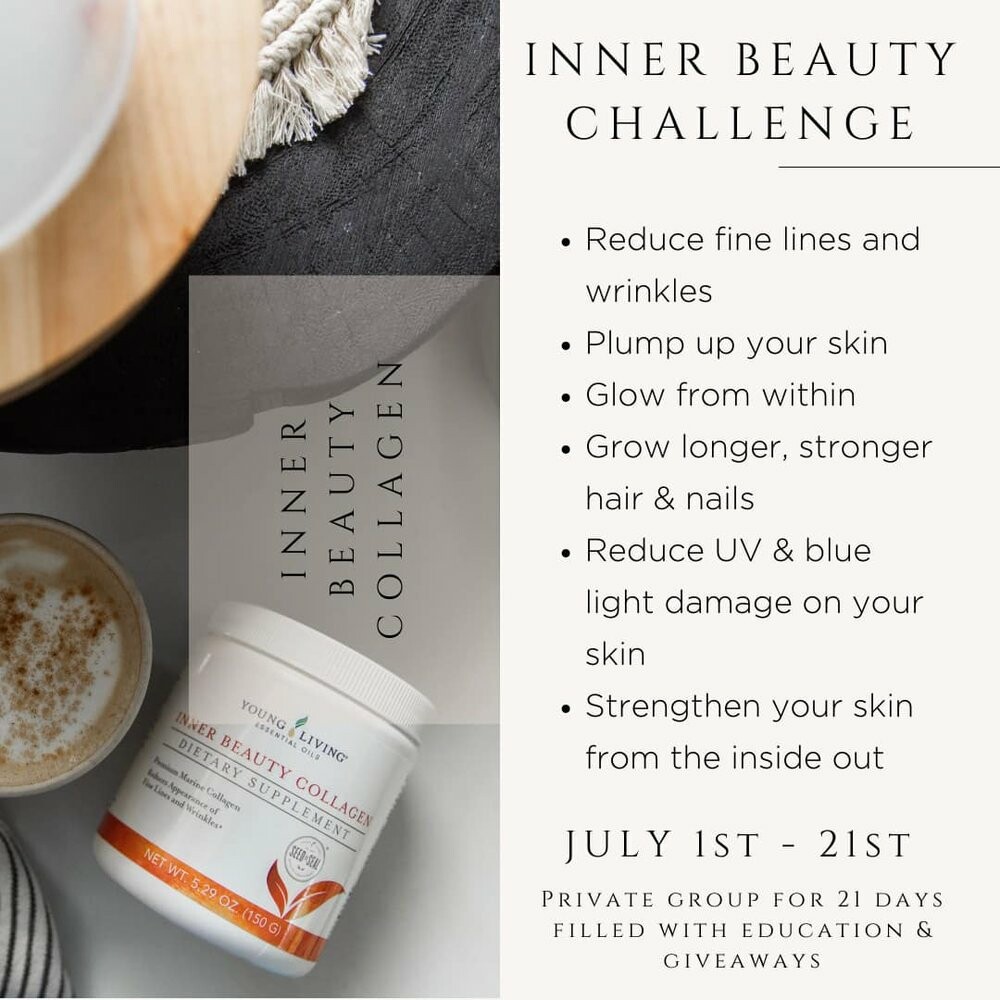 If you:
•Want to reduce the lines on your face
•Want to plump up your skin
•Want to glow from within
•Want to grow longer, stronger hair & nails
•Want to reduce UV & blue light damage on your skin
•Want to strengthen your skin from the inside out
…then, you need to join us for a fun 21-day challenge!
Here's how it will work - for 21 days, we will be focused on collagen - learning all about the role it plays in our health, diving into the ingredients of our new Inner Beauty collagen, sharing ways to use it, giveaways, and special live videos!
---
Then, we will start learning about 7 days of Ningxia Green!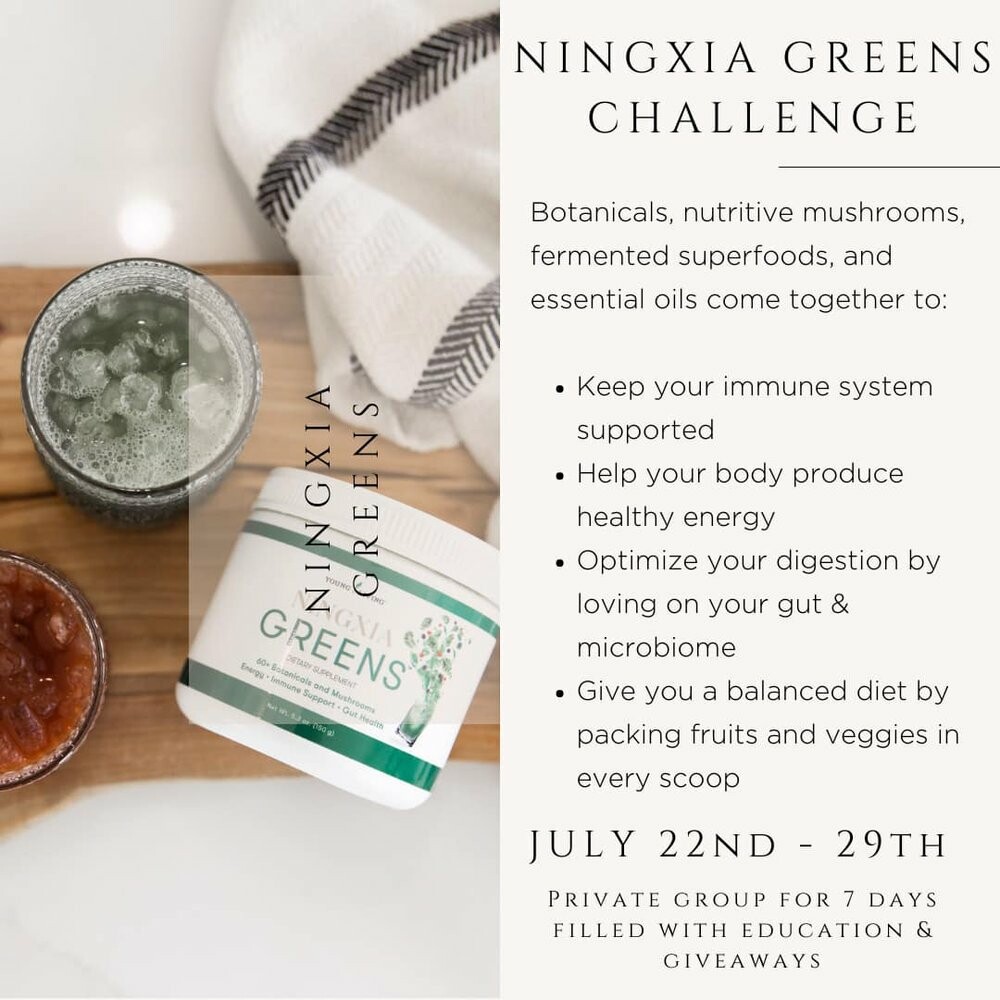 Last we will focus on 7 days of Power Meal! (um HELLO healthy microbiome, immune, and gut support!!!!)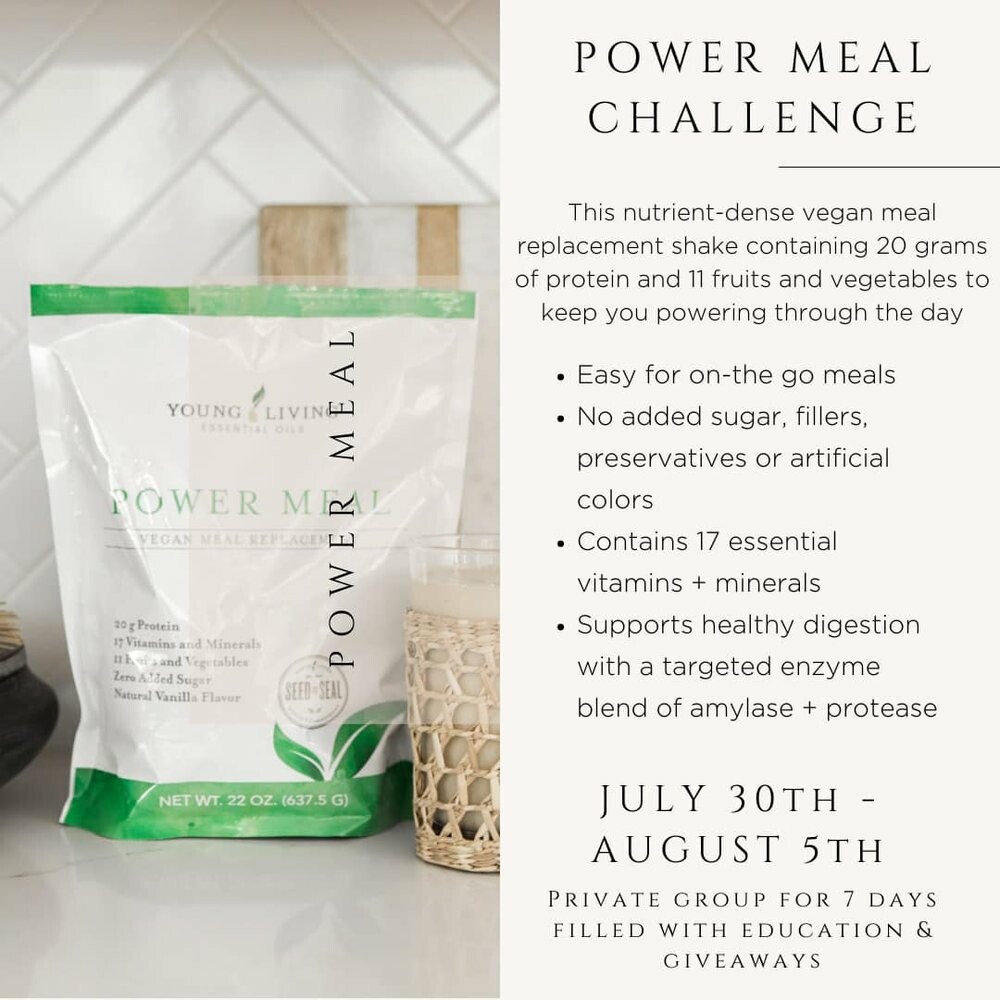 You'll want to order your products for this challenge asap so we can all start together!
(But if you hop in here late, or your products arrive after July 1st - no worries - just start when your products arrive! The information will stay in this group for you).
---
INNER BEAUTY COLLAGEN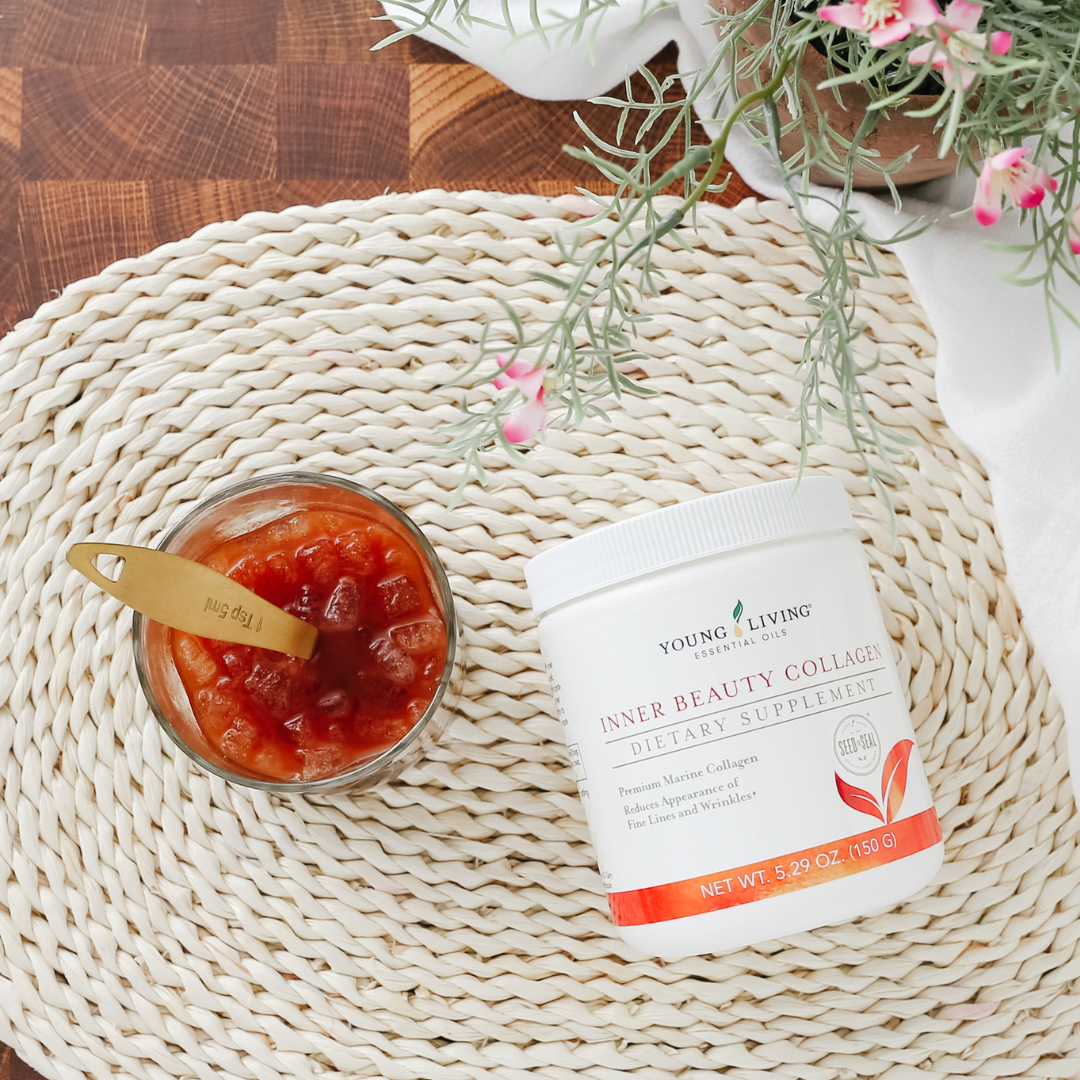 We have been waiting for this versatile, clean CLEAN clean, sustainably sourced, skin-loving collagen!
Sustainably sourced type I marine collagen is incredibly bioavailable and absorbed best by the skin.

Type I collagen makes up more than 75% of the collagen in our bodies

Reduced the look of wrinkles in as little as 3 weeks.

Improves skin's smoothness & elasticity, including after UV damage.

Supports healthy skin, hair, and nails.

No dairy, gluten, added sugars, fillers, flavors, or colors.
Every ingredient COUNTS:
Type I marine collagen: A highly soluble form of bioavailable type I collagen, this ingredient is sourced from sustainable fish using a proprietary hydrolysis manufacturing process that uses no harsh chemicals or solvents. It is odorless and tasteless.

Peach ceramides: This ingredient helps provide hydration to the skin, decreasing skin dryness.

Biotin, vitamin C, and zinc: Vitamin C and zinc support collagen synthesis for glowing skin, while biotin supports hair and nail health.

Tapioca fiber: This prebiotic fiber supports healthy skin by balancing the gut microbiome.

Superoxide dismutase (SOD): SOD is an antioxidant enzyme produced through fermentation.

Hyaluronic acid: This ingredient supports skin hydration, helping to reduce the appearance of fine lines and wrinkles for more youthful-looking skin.

Vanilla oleoresin: This oleoresin is a unique form of vanilla that is neither an extract nor an absolute, both of which contain mostly alcohol, and are extracted from hand-pollinated orchid blossoms.

Item #: 40578
Price: $64.75
PV: 64.75
---
NINGXIA GREENS
60+ whole foods, 5 varieties of immune-supporting mushrooms, plus wolfberry fruit and sprouted leaves from our Seed to Seal farm in Ningxia, China (carefully extracted using a heat-free method )

One scoop a day of this plant-based goodness gives you energy, immune support, and gut health!

Includes Multigreens essential oil blend (um, MELISSA oil 👀👀)
Key Ingredients:
NingXia wolfberry fruit powder and sprouted leaves: Also known as goji berries, wolfberries come from an ancient plant, long praised in China for its powerful health benefits.

Maitake, reishi, turkey tail, shiitake, and enokitake mushrooms: A source of soluble fiber known as beta-glucans, these mushrooms help support a healthy immune system.

Fermented Superfood Blend: A fermented superfood blend that delivers nutrients that are difficult to obtain from a typical diet, this proprietary combination also contains enzymes to support optimal digestion.

Purslane: An edible succulent, this ingredient is one of the few vegetables that are rich in plant-based omega-3 fatty acids, vitamins, and minerals—including copper, magnesium, iron, manganese, potassium, vitamin E, and vitamin C. Purslane is also a uniquely rich source of 184 phytochemical compounds, including phenolic acids, alkaloids, and flavonoids, which act as antioxidants.

Secale cereale flower pollen extract: A non-allergenic and sustainably sourced extract that contains full-spectrum nutrients such as amino acids, phytosterols, fatty acids, carotenoids, flavonoids, vitamins, minerals, and enzymes, this extract is clinically shown to display antioxidant and detoxifying capacity and maintain cellular oxidative stress through the significant decrease of GSSG (oxidized glutathione).

MultiGreens proprietary oil blend: The same combination of premium essential oils found in our MultiGreens supplement, this blend was originally formulated by Gary Young.
Item #: 41064
Price: $46.75
PV: $46.75
---
POWER MEAL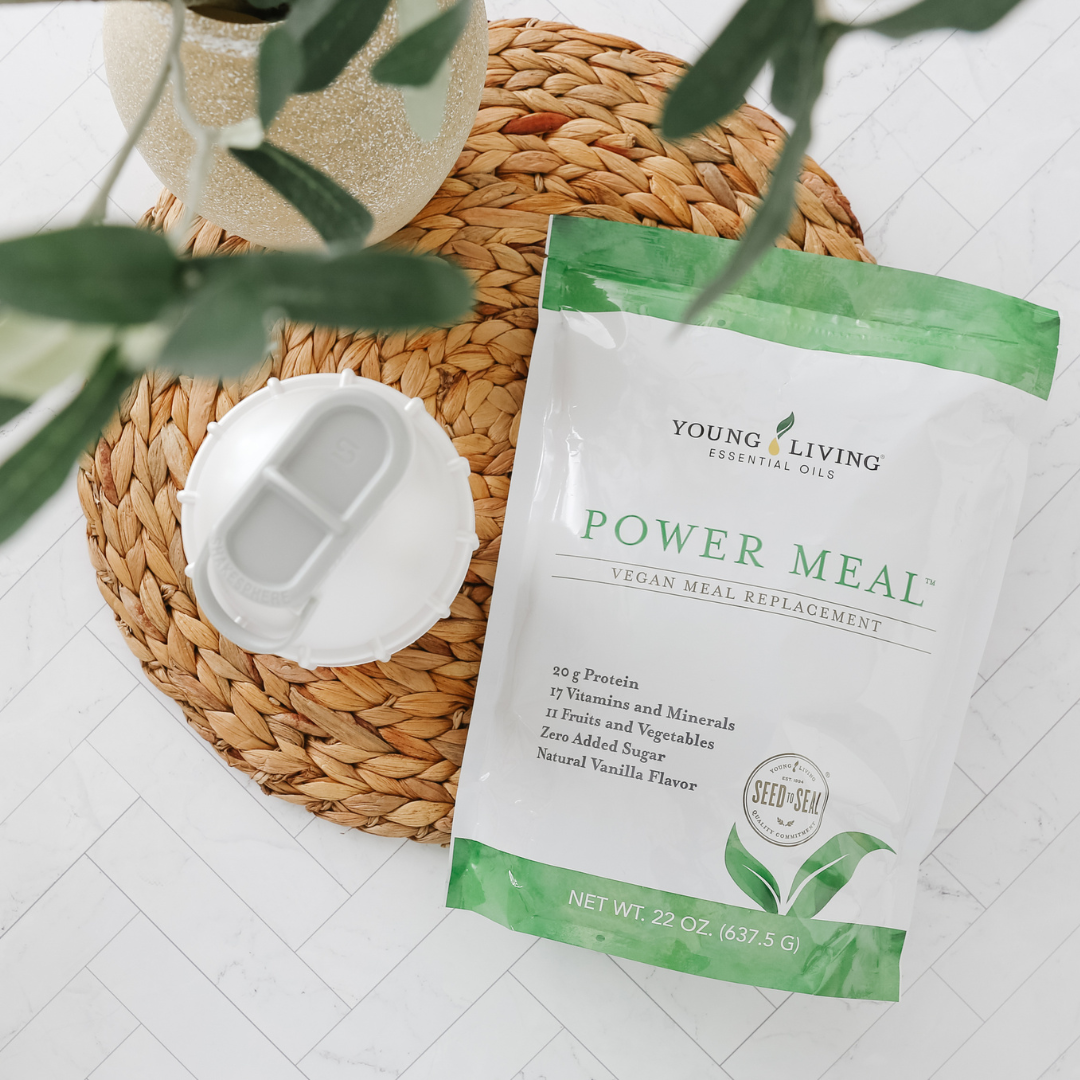 Power Meal is our VEGAN meal replacement with 20g of protein from peas, flax, pumpkin, and sunflower seeds, 17 vitamins & minerals, 11 fruits & veggies, MCT oils, orange essential oil, and a targeted enzyme blend of amylase and protease to support healthy digestion, ZERO added sugar, with a vanilla flavor!
BONUS: This item is also GLUTEN-FREE!
Item #: 40661
Price: $54.75
PV: $43.75