11/03/2023 11:10 AM Central
Brandi Bunda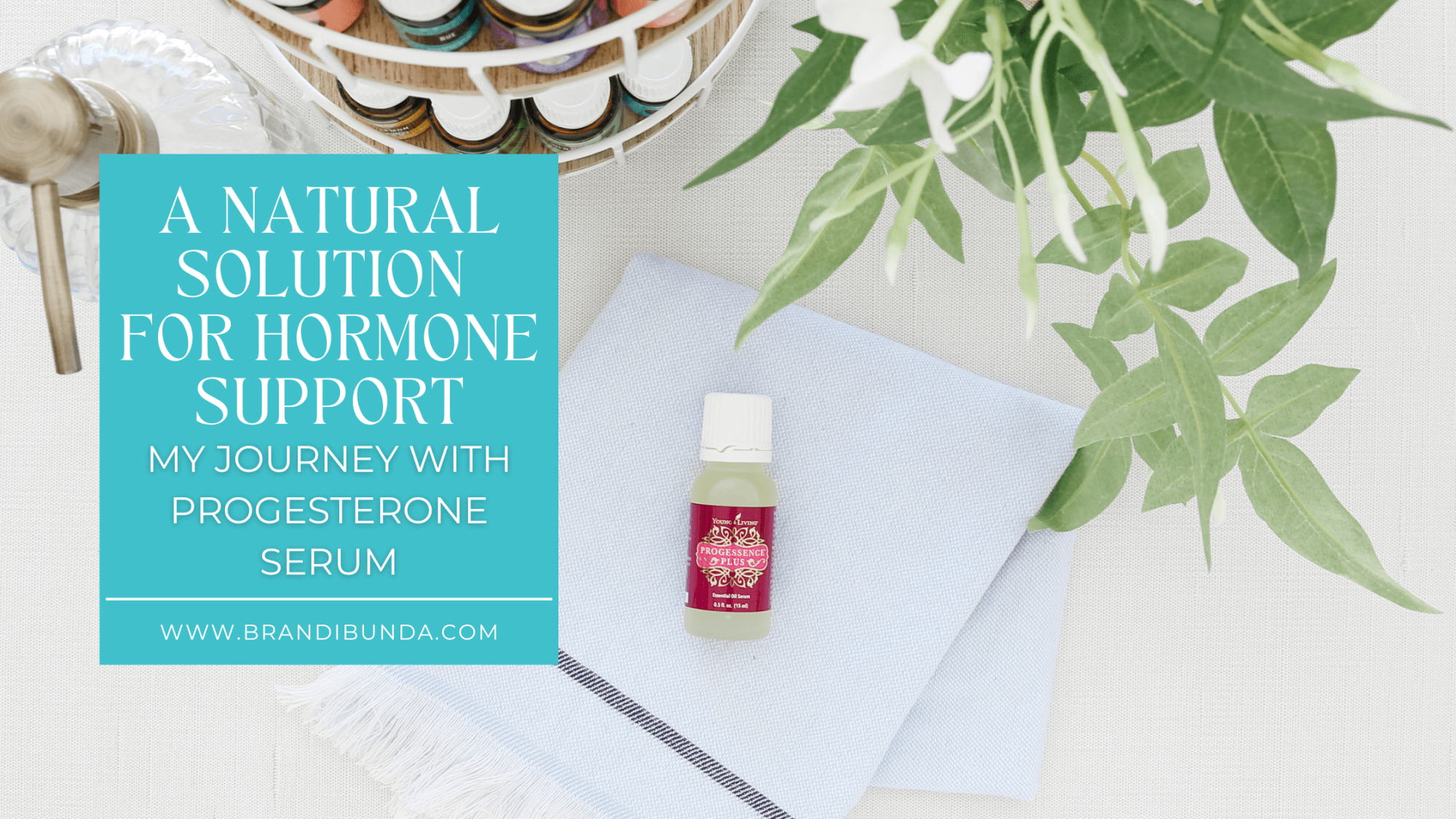 Are you on your journey of getting pregnant and exploring natural ways to support your hormones?
For years, I struggled to conceive and battled with hormonal imbalances. After my miscarriage, I had my progesterone levels checked and was told I had low progesterone levels. A few months later, I sought the assistance of a naturopath who recommended a natural progesterone serum derived from wild yams and infused with essential oils. I had been using oils for nearly two years so I was familiar with their incredible benefits. I was eager to try it. After using it for a few months, I saw a remarkable improvement in my hormonal balance.
In this blog post, I'll share my experience with this natural progesterone serum and how it can benefit you on your journey.
Do you ever feel like your hormones are out of whack, affecting not just your body but also your emotions? Low progesterone levels can cause infertility, menstrual irregularities, and mood swings.
Before I started using natural solutions to support my hormones, I suffered from irregular periods, mood swings, trouble sleeping, irritability, terrible cramps, bloating, chronic/hormonal headaches, and nausea both during my period and at other times as well.
Synthetic hormone treatments are often prescribed to regulate hormone levels, but they can have adverse side effects on your body and not be suitable for all women. Natural hormone replacement therapy (NHRT) using bioidentical hormones extracted from wild yams is increasingly gaining popularity, showing no adverse effects on our health.
The Progesterone serum that I began using is a high-quality bioidentical formula that mimics the naturally occurring hormone in your body. It helps ease hormonal symptoms and promote a healthy pregnancy. If you don't have adequate progesterone levels in your body, unfortunately, you will not be able to sustain a pregnancy long-term.
When you apply the
Progesterone serum
1-2 times a day to various parts of your body, such as your forearm and inner ankles, it is quickly absorbed and distributed throughout your body, improving your hormonal balance in the process.
Progessence Plus Serum
was crafted by a partnership between Young Living Essential Oils and Dr. Dan Pursar, an expert in women's health and author of
Progesterone: The Ultimate Woman's Feel Good Hormone.
The serum produced is an organic and natural solution, free of harmful chemicals often present in synthetic hormones. The ingredients in the Progesterone serum also include essential oils that calm and soothe the mind, enhancing mental and emotional well-being.
I love that it's 100 percent plant-based and a naturally derived vegan formula. It's also formulated WITHOUT parabens, phthalates, petrochemicals, synthetic preservatives, synthetic fragrances, or artificial dyes.
Quality matters to me and this product is top-notch.
When I started using Progessence Plus, I combined it with other natural and lifestyle changes to support my hormonal health such as ditching the chemicals and toxins from my household and personal care products. I began exercising regularly, eating a balanced diet, and practicing stress management exercises like meditation and breathwork.
Getting my hormones in check was pivotal for my fertility health. For me, this serum helped to alleviate those monthly cramps, nausea, hormonal headaches, and irregular periods and I am pretty much on a 28-day cycle... like clockwork! If I wasn't tracking my period, I wouldn't even know I was about to start my period… except for the intense sugar cravings I still get at the beginning of my cycle!
After six months of making these positive changes in my life, taking the serum twice a day, and tracking my menstrual cycle closely, I received the best news 2 weeks after getting baptized… I was pregnant!
I continued using the Progessence Plus Serum religiously throughout my pregnancy and was able to sustain my pregnancy to full-term (praise, Jesus!)
My encouragement to you is this, if you're struggling with hormonal imbalances and are looking for alternative solutions, I highly recommend trying my favorite Progesterone serum. It's been an incredible natural solution for me, and I believe it can be for you, too. Whether you struggle with uncomfortable PMS each month, infertility, endometriosis, or PCOS, have had a hysterectomy, have experienced multiple miscarriages, have a history of low progesterone levels, or are trying to conceive… this will be super beneficial for you.
Always consult with your healthcare professional before using this natural solution or any other holistic approach to your health. Remember, small lifestyle shifts can do wonders for your hormonal health, and, with a little help, you may be able to achieve your goal of becoming pregnant or helping to regulate your hormones in a more natural way.