Dec 8, 2021 10:10 AM Central
Brandi Bunda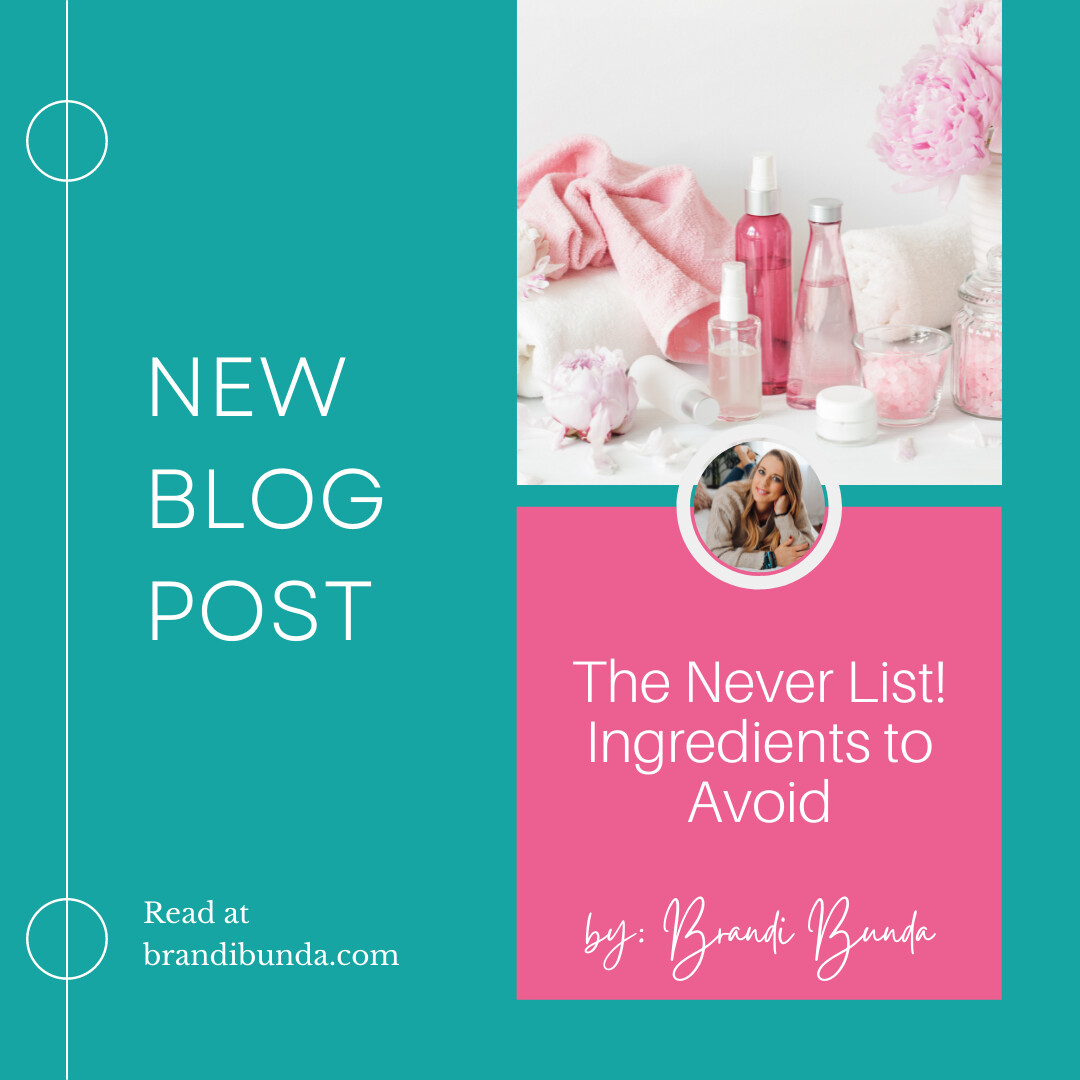 I've learned a lot throughout my wellness + fertility journey and finding out what was lurking in my personal care and household products was a mind-blowing reality check. The United States Government does not make sure our beauty products are safe. It's sad but true. It's essentially up to each individual consumer to do their own research which can feel really overwhelming and confusing especially when you first start ditching + switching out your products for safer, less toxic alternatives.
Let me lay more info out for you...
The United States has not passed a federal law governing the cosmetics industry since 1938.

The FDA does not require that cosmetics products or ingredients be approved before they go on the market (unbelievable but true).

The U.S. has banned or restricted only 30 ingredients to date, while the European Union has banned close to 1,400.

1 in 2 men and 1 in 3 women in the US will be diagnosed with cancer.

In one study, close to 16 potentially toxic cosmetics chemicals were found in the bodies of 20 teenage girls.
This is completely unacceptable which is why I am so grateful for finding The Never List, a comprehensive list for people who care about what's in their products. While I'm not affiliated with Beauty Counter in any way, I use some of their products and appreciate their dedication to creating clean products and for providing this list to the masses.
You can download the full list here.
Benzalkonium Chloride
A disinfectant used as a preservative and surfactant associated with severe skin, eye, and respiratory irritation and allergies. Found in: sunscreens, moisturizers.
Butylatedhydroxy Anisole and Butylated Hydroxytoluene
Synthetic antioxidants used to extend shelf life. They are likely carcinogens and hormone disruptors and may cause liver damage. Found in: lipsticks, moisturizers, diaper creams, and other cosmetics.
Coal tar hair dyes and other coal tar ingredients
A byproduct of coal processing is a known carcinogen. It is used as a colorant and an anti-dandruff agent. Found in: hair dye, shampoo.
Ethylenediaminetetraacetic acid (EDTA)
A chelating (binding) agent added to cosmetics to improve stability. May be toxic to organs. Found in: hair color, moisturizers.
Ethanolamines (MEA/DEA/TEA)
Surfactants and pH adjuster linked to allergies, skin toxicity, hormone disruption, and inhibited fetal brain development. Found in: hair dyes, mascara, foundation, fragrances, sunscreens, dry-cleaning solvents, paint, pharmaceuticals.
Formaldehyde
Used as a preservative in cosmetics. A known carcinogen that is also linked to asthma, neurotoxicity, and developmental toxicity. Present where quaternium-15, DMDM hydantoin, imidazolidinyl urea, diazolidinyl urea, sodium hydroxymethylglycinate, 2-bromo-2-nitropropane-1,3 diol (Bronopol), and several other preservatives are listed. Found in: shampoo, body wash, bubble bath.
Hydroquinone
A skin-lightening chemical that inhibits the production of melanin and is linked to cancer, organ toxicity, and skin irritation. Found in: skin-lightening creams.
Methylisothiazolinone and methylchloroisothiazolinone
Chemical preservatives are among the most common irritants, sensitizers, and causes of contact skin allergies. Found in: shampoo, conditioner, body wash.
Oxybenzone
Sunscreen agents and ultraviolet light absorbers linked to irritation, sensitization, and allergies, and possible hormone disruption. Found in: sunscreen, moisturizer.
Parabens (methyl-, isobutyl-, propyl- and others)
A class of preservatives commonly used to prevent the growth of bacteria and mold. Parabens are endocrine (or hormone) disruptors, which may alter important hormone mechanisms in our bodies. Found in: shampoo, face cleanser, body wash, body lotion, foundation.
Phthalates (DBP, DEHP, DEP, and others)
A class of plasticizing chemicals used to make products more pliable or to make fragrances stick to the skin. Phthalates disrupt the endocrine system and may cause birth defects. Found in: synthetic fragrance, nail polish, hairspray, and plastic materials.
Polyethylene glycol (PEG compounds)
PEGs are widely used in cosmetics as thickeners, solvents, softeners, and moisture-carriers. Depending on manufacturing processes, PEGs may be contaminated with measurable amounts of ethylene oxide and 1,4-dioxane, which are both carcinogens. Found in: creams, sunscreen, shampoo.
Propylene Glycol
According to the Environmental Working Group, propylene glycol can cause a whole host of problems. It is rated a 3 by them, which is categorized as a "moderate" health issue. It has been shown to be linked to cancer, developmental/reproductive issues, allergies/immunotoxicity, neurotoxicity, endocrine disruption, and organ system toxicity. It is found in items such as shampoo, conditioner, soap, acne treatment, moisturizer, toothpaste, deodorant, nail polish, mascara; basically, anything you could possibly use on your body, propylene glycol is in it.
Retinyl palmitate (Vitamin A Palmitate)
Retinyl palmitate is an ingredient composed of palmitic acid and retinol (Vitamin A). Data from an FDA study indicate that retinyl palmitate, when applied to the skin in the presence of sunlight, may result in adverse health consequences like lesions and photosensitization. FDA, Norwegian, and German health agencies have raised a concern that daily skin application of vitamin A creams may contribute to excessive vitamin A intake for pregnant women and other populations.
Sodium Lauryl Sulfate and Sodium Laureth Sulfate (SLS and SLES)
SLS and SLES are surfactants that can cause skin irritation or trigger allergies. SLES is often contaminated with 1,4-dioxane, a byproduct of a petrochemical process called ethoxylation, which is used to process other chemicals in order to make them less harsh. Found in: shampoo, body wash, bubble bath.
Synthetic flavor or fragrance
An engineered scent or flavoring agent that may contain any combination of 3,000-plus stock chemical ingredients, including hormone disruptors and allergens. Fragrance formulas are protected under federal law's classification of trade secrets and therefore can remain undisclosed. Found in: all types of cosmetics.
Toluene
A volatile petrochemical solvent that is toxic to the immune system and can cause birth defects. Found in: nail polish.
Triclosan and Triclocarban
Antimicrobial pesticides toxic to the aquatic environment; may also impact human reproductive systems. Found in: liquid soap, soap bars, toothpaste.
Small Changes Add Up Over Time
Over the past 6 years, I have been actively reducing the number of chemicals I bring into our home. I know it can seem really overwhelming (& expensive) if you try to do it all at once so just remind yourself that small changes over time are going to make your family a lot healthier.
I know I am making cleaner products a priority, are you?
Let me know below.