10/06/2023 10:10 AM Central
Brandi Bunda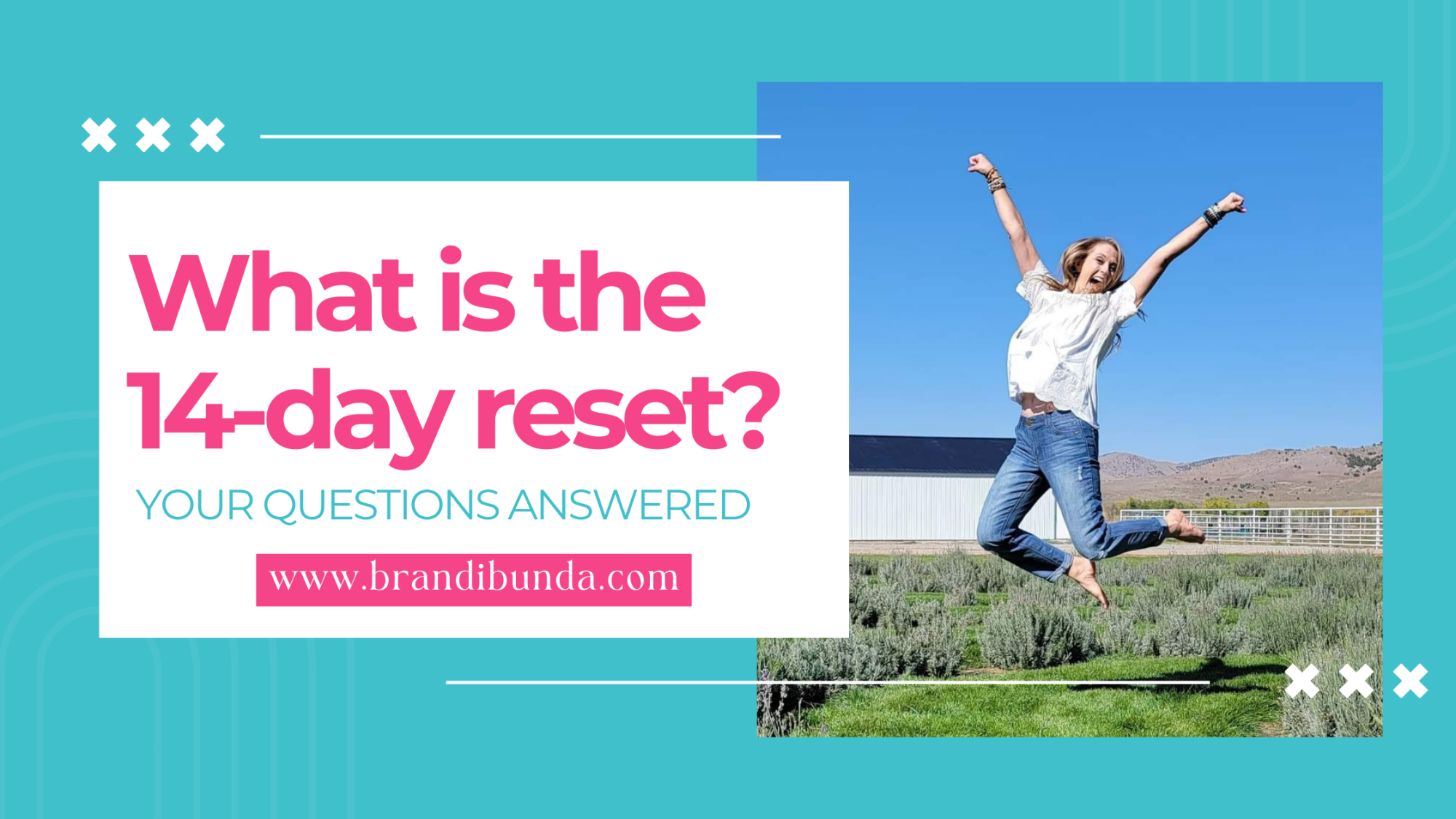 The 14-Day
Reset
is an ongoing, monthly program that is available FREE to my wellness community and together we focus on nutrition, supplementation, hydration, and movement as well as reducing stress and chemicals from our environment.
Don't worry, t
his isn't a fad diet. It's fast but not a "get skinny quick" gimmick. It's about delivering nutrients to cells and making sustainable changes...

which I'm ALL about!
All you need is my favorite liquid supplements that help with pain, fatigue, cellular function, and cognitive support. It's a delicious juice but the main thing is that it reverses inflammation and that's what your body needs. It also helps to detoxify the chemicals in your body which is another thing your body needs to heal.
Did you know? Chemicals and toxins accumulate in the body and get stored in your adipose tissue (aka body fat cells). This supplement helps you release the chemicals, then the fat can also be released. Win-win!
If you experience any of the following:
Fatigue

Digestive issues

Obesity

Diabetes

Autoimmune issues

Sleep - trouble falling asleep and staying asleep

Headaches

Joint Stiffness

Frequent illness

Low Mood / Anxiety / Depression

Extra weight you can't seem to shake
Unfortunately, chronic inflammation is slow, long-term inflammation that just gets worse. It usually builds over a period of months or years until you truly feel symptoms that are just chalked up to "normal age-related" things.
It's called a silent killer - because inflammation is NOT what you want in a healthy body. Like it or not, what we put in our mouths either turns on the pro-inflammatory chemicals in our bodies or turns them off. What are you doing to get the inflammation down in your health?
Personally, I've been on a holistic health journey since 2010 but found myself at my heaviest weight after having my 2nd baby in 2018. Over time, I was able to lose some of the excess weight but getting rid of those last 20 pounds was so dang hard for me. I hit a plateau and n

othing that I tried worked
.
Then I saw the amazing results some of my friends were having by focusing on reversing inflammation in the body which ultimately led me to
THE 14-DAY RESET!
I paired the juice with intermittent fasting and chose the Paleo meal plan... I finally lost the 20 pounds and hit my pre-baby weight goal (and I've been able to keep it off as well)!
Daily workouts by a personal trainer

Easily to follow printables to keep you on track and organized

Meals plans with shopping lists

Education on how to save on groceries

Education from a certified nutritionist

Mindset tips, emotional support, and motivational affirmations

New health and wellness education added monthly

Message chats, Marco Polo chats - you choose your desired level of engagement
Commit to 14 days of clean eating (you choose your meal plan, we provide the options!)
Focus on drinking clean, adequate amounts of water.
Move your body for 30 minutes a day (various exercises are provided by personal trainers)

Use the BEST wellness supplement which supports mood, energy, gut health, blood sugar and more!

Free support, coaching, and mentoring
transform your body from the inside out
eliminate brain fog
reduce inflammation
reduce the risk of disease
lose weight from eating real, whole foods
regulate insulin levels
have more energy + feel awesome
get off the weight loss roller coaster
experience better sleep
have a general feeling of joy
never diet again
and finally, have the body you want...
Then this program is for you.
You are NOT alone in this journey!!! We do a reset EACH month! Always on the 2nd Monday --- so you can hop in and join anytime. If you fall off the wagon, it's a great opportunity to get right back on, without guilt or judgment.
---
All you need to do is purchase NingXia Red in order to participate.
I suggest the NingXia Red Starter Bundle
that gives you enough NingXia for the 14 days (Item #: 42763)
OR grab the Loyalty Bundle (Item #: 4893)
and you will have enough to continue after the 14 days... and I can almost guarantee you will want to because you will feel so different!!
2. Message me with a photo of NR you currently have or your order with 102oz
3. I will add you to the private FB group - be sure to answer ALL FOUR Questions, or you will not be approved into the group.
Either way, I am here for you and cheering you on!
---
By purchasing these products and participating in the program, you agree that Brandi Bunda is not liable for any potential damages incurred. She is not a doctor or RD, the wellness program is simply meant to guide you to eat well and embrace a holistic approach to your overall wellness. Any statements made have not been evaluated by the Food and Drug Administration and are not meant to treat, diagnose, or cure you.